CASE STUDY: Tackling energy use in denim production
 From spinning and weaving to chemical processing, finishing fabrics and machine sewing, the energy consumption involved with textile production is vast. In fact, the textile industry remains one of the least energy efficient industries in the world. The Carbon Trust reports that almost half of the CO2 emissions embodied in global clothing production arise from the generation of electricity. The meteoric rise of 'fast fashion' has contributed to an even greater demand for fossil fuel based energy to keep up with demand. However, partly due to the emergence of new technology in recent years, there are plenty of ways the textile industry can make huge energy savings. If you add renewable energy applications into the mix, the possibilities to reduce emissions are even more significant
 Denim manufacturing is particularly challenging from a sustainability perspective. But, the Lotus Group has long embraced opportunities to optimize its production processes and mitigate environmental impacts. The company has done this through constant investment in research and development as well as maintaining internationally regarded sustainability standards. When it came to optimizing its energy system, the Lotus Group seized the opportunity to partner with UNIDO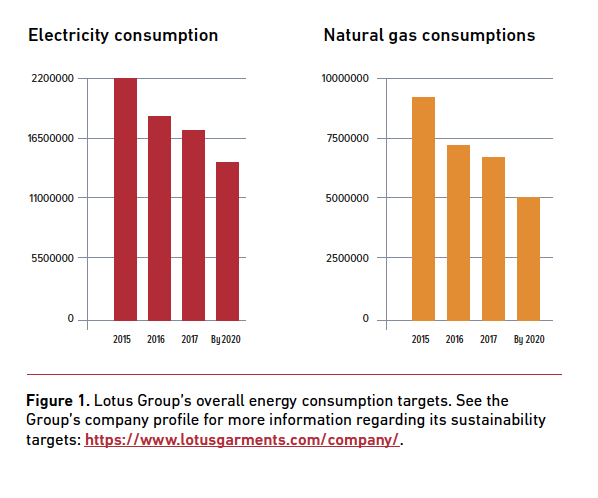 Focusing on its Suez Canal factory, which specialises in ironing raw materials for the production of ready-to-wear garments, UNIDO worked with the Lotus Group to investigate new ways it could reduce energy consumption. The Suez Canal factory contains around 50 ironing units that operate using steam. The plant's thermal energy system is powered by a diesel fire tube steam boiler, which has a 0.5 Ton/hr capacity.
Working with UNIDO's energy management specialists, Lotus Garments identified four key opportunities to improve its energy management system in its Suez Canal plant. This included: thermal insulation, burner efficiency, automating boiler blowdown and integration of solar thermal.

Download the case study below to learn more about the four key areas of work UNIDO recommended for Lotus Garments to achieve a series of impressive energy saving results.
View file
Download file