High hopes for Morocco's first cohort of certified ISO 50001 energy managers
This year the Industrial Energy Accelerator completed its first energy management systems training programme in Morocco. The 10-month process guided trainees from 18 companies, consultancies and government departments through a detailed curriculum designed to kick-start an industrial energy efficiency movement in the country.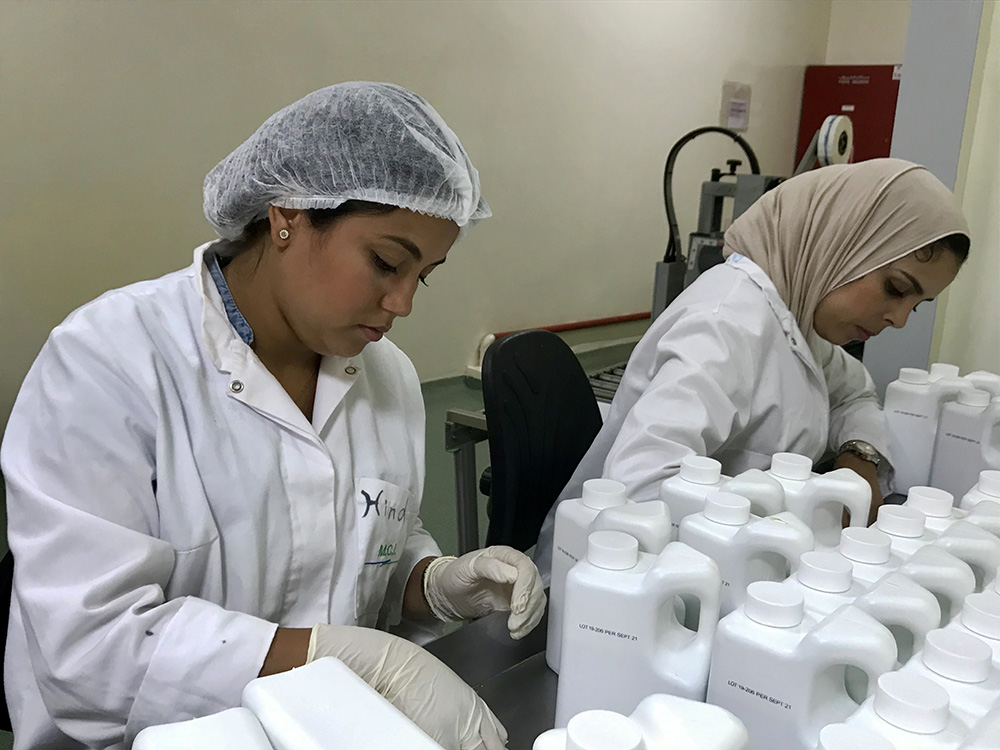 Floor staff from MCI Santé Animale, one of the 18 companies that have participated in the training organized by UNIDO´s Industrial Energy Accelerator in partnership with AMEE and CGEM.
There is considerable potential for improving energy efficiency in Moroccan industries. According to the results from industrial energy audits conducted by the European Commission, more than 15 per cent of the baseline energy use could be saved in Morocco.
However, despite this potential for energy savings, implementation of energy efficient management systems in Moroccan industries is relatively low. One of the reasons for the limited uptake of industrial energy efficiency measures is a lack of technical assistance initiatives and an underqualified local energy services market.
With the Industrial Energy Accelerator's support, in partnership with the Moroccan Agency for Energy Efficiency (AMEE) and the Confederation of Moroccan Employers (CGEM), Morocco is building capacity to kickstart an industrial energy efficiency movement across the country. Introducing the globally recognized ISO 50001 Energy Management System is the first step in this process.
A global standard for energy management
Realizing the role energy efficiency can play in reducing carbon emissions, the United Nations Industrial Development Organization (UNIDO) supported the development of the International Standards Organization (ISO) 50001 Energy Management Systems standard in 2007. Comprised of requirements for establishing, implementing, maintaining, and improving an efficient energy management system, the ISO 50001 standard establishes a consistent global framework for companies to adhere to, thereby creating a level playing field for competitive industries worldwide.
To date, industrial companies have saved millions of dollars and tons of carbon emissions as a direct result of implementing the ISO 50001 standard. Delta Electronics factory, in China's Dongguan region, initially reported a reduction in power consumption by 10.51 million KWH compared to the same period before implementing ISO 50001. This is equivalent to reducing 10.2 thousand tons of carbon emissions or taking over 2,000 cars off the road for a year, and saving 1.1 million USD.
In Morocco, uptake of the energy management system is at a very nascent stage. While there are a number of energy service companies in the market, most are not qualified to implement energy management systems and carry out ISO 50001 assessments. This is unlike early ISO 50001 adopters such as Ireland, where large companies like Diageo, Dairygold, Abbott and Siemens are leading the way.
Germany alone accounts for over 50 per cent of the ISO 50001 certificates in Europe. This is largely due to voluntary agreements between the German government and industrial firms that encourage companies to cut energy use in return for a tax rebate.
"A company that implements ISO 50001 is one that is genuinely committed to energy efficiency," explains Hanan Hanzaz, UNIDO's Representative in Morocco. "And when energy efficiency actions are implemented by a company, they will immediately see it in their energy bill."
Champions for industrial energy reform in Morocco
Evidently, effective national uptake of ISO 50001 is dependent on a number of integrated factors, which include government policy, fiscal incentives, awareness and expertise. The Accelerator's ISO 50001 training programme is designed to specifically address the limited capacity in implementing energy management systems, while recognizing the holistic approach needed to successfully encourage wide-scale uptake.
"What we aim to have after the 10-month programme are a series of flagship companies which can say we have done this, it's been really successful, it's not hugely difficult and you can do it too," explains UNIDO's trainer, Gerard Doherty.
Candidates for the training programme were carefully selected to ensure the right mix of engineers, floor, quality and systems managers, policymakers and consultants who were able to exchange perspectives and build working relationships outside of the classroom. Graduates of the training programme are expected to help foster a thriving industrial energy efficient services market in Morocco.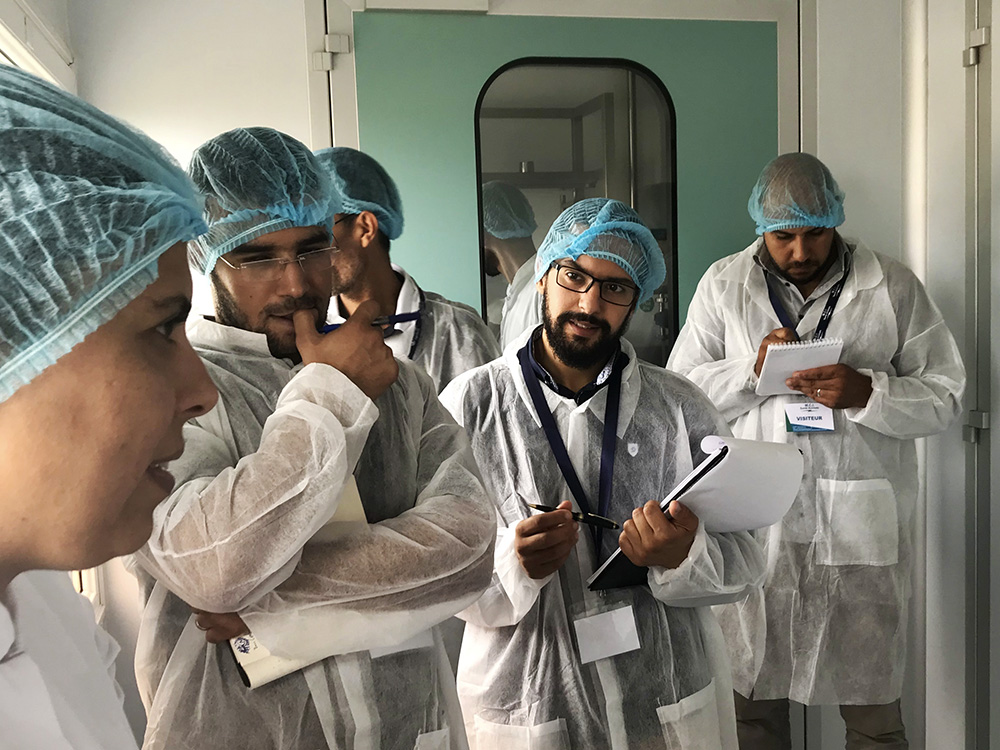 As part of the ISO 50001 training programme, a group of trainees conduct an audit of MCI Santé Animale´s energy management system.
"Mixing companies and consultants has been very innovative," said Hanan Hanzaz. "Also having companies representing different industrial sectors was important as they can share and duplicate the experience within their own professional federations."
Training modules were delivered via a mix of in-class training, virtual webinars and workshops as well as immersive learning experience in the field and on the factory floor. The curriculum was extensive and ranged from drafting energy policies; initial data collection; energy performance indicators; understanding energy costs; identifying opportunities for reform to monitoring and evaluation.
So much to gain
By rolling out the ISO50001 compliant energy management system throughout Morocco, companies stand to discover potential savings, productivity gains and competitive advantages. In many cases an energy management system can improve a company's public reputation and dramatically reduce operational costs in the short-term with very little financial investment.
Before being introduced to the ISO 50001, Energy Optimization manager, Wiame Fathi, was already implementing a number of energy efficiency initiatives in her pharmaceutical company, Sothema.
"With this training not only have I gained further knowledge about energy management, it's helped me structure and coordinate the implementation of all the actions to reduce the energy we use and, most importantly, analyse and quantify the impact."
In the space of 10 short months, Lamiaa Hamzi, in charge of systems and quality for L'usine Electrique, has managed to reduce her company's energy bill by almost 10 per cent.
"Throughout the training I was encouraged to implement a number of very practical actions to reduce our electricity consumption, such as reducing the pressure from the compresor, eliminating air leaks, changing traditional light bulbs for LED ones and conducting awareness raising amongst staff."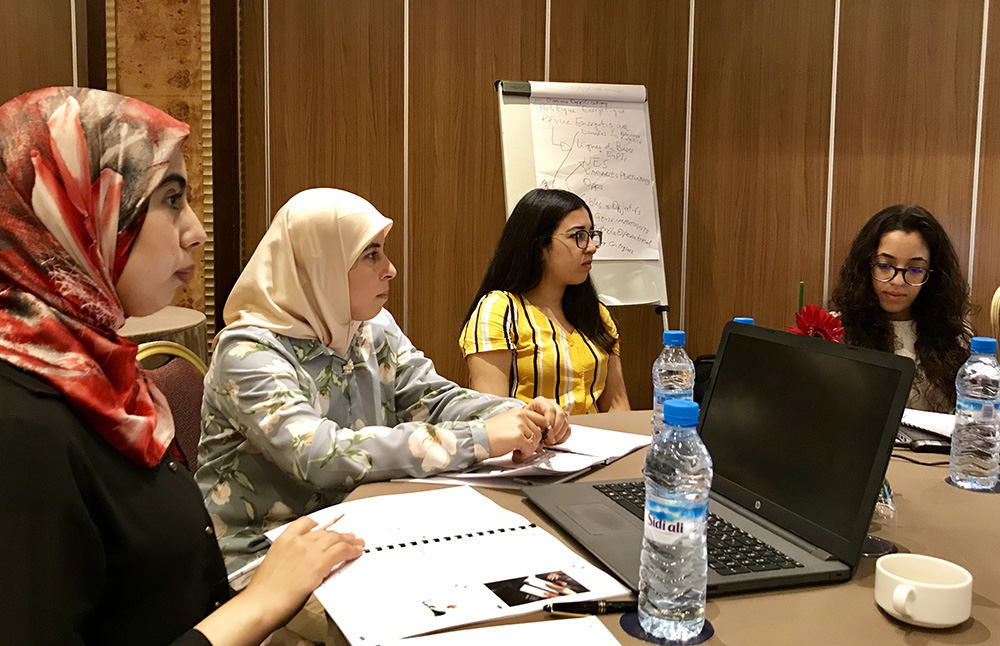 At the far left, trainee Lamiaa Hamzi from L'Usine Électrique attends one of the final classes of the 10-month training programme to enhance her company's energy management system.
More broadly, a large scale rollout of the ISO 50001 energy management system will go a long way in helping Morocco fulfil its National Energy Strategy, which aims to achieve 20 per cent in energy savings by 2030, half of which is expected to come from the industrial sector. Such an achievement in industrial energy efficiency, will boost Morocco's standing as a global leader in climate change mitigation and reduce pressure on energy security.
"The idea is that when we are done here in Morocco, and the ISO 50001 scheme takes off, it will become simply the way things are done here in Morocco. Obviously this will take time but this is the year it begins," says Gerard Doherty.