How UNIDO helped companies save over US$400 million in energy costs and why this is just the beginning
It has been 10 years since a small team of international UNIDO consultants began the very first energy management system (EnMS) training programme in South Africa. Today, more than 650 EnMS experts have been qualified and over 3500 companies have received EnMS training in nearly 20 countries. To commemorate the programme's achievements, and to mark the launch of the Accelerator's Energy Efficiency Solutions Series, we speak with some of the pioneers of this wildly successful UNIDO initiative and remember how it all began.
"In the beginning we treated energy efficiency purely as a technical issue, but we gradually began to realize that successful energy management systems are very much dependent on people and culture," explains Liam McLaughlin, an international energy management expert who is based in Ireland.

While energy efficiency is not a new concept, the practice of standardising the management of energy in industry is a relatively recent development. Ireland was among the very first countries to create a national energy management standard for industry. "This gave us a head start," says Liam. "We learned a lot. We made lots and lots of mistakes, but we learned what successful energy management systems required."

Those lessons and experiences formed the foundations of what would become the International Organization for Standardization's ISO 50001, a globally regarded energy management benchmark and certification scheme which was requested by UNIDO.

During the development of the new ISO standard in 2010, Liam along with a handful of leading international experts who contributed to ISO 50001, were recruited by UNIDO's Industrial Energy Efficiency division. Their task was to design and deliver a comprehensive EnMS capacity building programme. The aim was to kickstart demand and service offers for energy management systems in some of the world's largest industrial nations.
One of the initial trainees was Wendy Da Cruz, a Johannesburg based environmental management specialist, who took up the opportunity to broaden her expertise with an ISO 50001 qualification. Wendy has since gone on to become one of South Africa's most respected and passionate EnMS consultants.

"I would describe myself as a bit of a greenie," explains Wendy who took part in the very first ISO 50001 training pilot programme which was led by Liam and William (Bill) Meffert from Georgia Tech on behalf of UNIDO.
"Initially I wasn't 100 per cent sure about energy efficiency. But having the opportunity to learn from people like Liam and Bill, I very quickly grasped that this was an enormous way for people like myself to help companies make a difference to their energy performance and ultimately their financial and environmental performance," she explains.
The rapid growth in South Africa's energy efficiency market over the past decade is in large part thanks to the impressive results achieved by well-known companies that took part in the UNIDO's EnMS-ISO 50001 programme. These companies included ArcelorMittal Saldanha Works,  Toyota SA and automotive component manufacturer Johnson Matthey. Having engaged dozens of companies and trained over 2,300 individuals at an advanced level, the largely Global Environment Facility funded South Africa Industrial Energy Efficiency Project is now witnessing a nation-wide shift and impact. To date, the programme has helped companies avoid a staggering US $245 million in energy costs in South Africa as well as 5.8 million tons of CO2 emissions. This is roughly equivalent to the per capita emissions of more than 600,000 South Africans.
"I have certainly seen a difference in the 10-years of implementing EnMS systems in South Africa. We began from scratch, during a time when there were significant power outages in the country. Most companies didn't even know what their energy bill was," says Wendy.
Inspiring examples of success
As is the case with many new sustainable development initiatives, convincing industrial companies to invest time, money and staff hours into the implementation of an EnMS initially proved to be a significant barrier in many project countries.

"I started with UNIDO in 2012, during the revolution in Egypt, so it was a very tough time to introduce a new project amidst so much political unrest, frequent blackouts, large energy subsidies and aging infrastructure" explains Gihan Bayoumi who leads UNIDO's energy portfolio in Egypt.
Gihan and her team also had to grapple with gender assumptions and biases. "As a lady, it wasn't easy for me to engage the very masculine industrial sector. But over time I slowly built trust and credibility which allowed me to overcome long-held gender biases and assumptions," says Gihan.
But despite these momentous challenges, Gihan and her team persevered and began to achieve breakthroughs. This included training the first national cohort of EnMS consultants in 2014 who would eventually help to certify 15 companies in the ISO 50001 energy management standard. Through the project's systematic support for more than 70 energy intensive companies, to date 1,220 GWh of energy has been saved and a total of 3.44 megatons of CO2 equivalent has been avoided in a 10 year period.

Just like South Africa, the uptake of EnMS in Egypt was largely driven by word of mouth and the impressive results achieved by participating companies such as Al Ezz Dekheila Steel Company, the Arabian Cement Company among many others. The UNIDO-Egypt team recognized this early on. They responded by establishing a peer-to-peer knowledge sharing network which proved to be a huge catalyst in building trust and interest in UNIDO's EnMS training programme. 

"The philosophy of this network was to let the companies talk about their own success. This is much more powerful than when we, as UNIDO, talking about the benefits of an EnMS," explains Gihan.

"It was like a local-to-local exchange of experience. It relied on real experience and real cases studies, and people from the same sector who spoke the same language. That's why the EnMS programme in Egypt was so successful," Gihan added. 

The next 10-years
Worldwide, in just 10 years, UNIDO's EnMS programme has trained more than 650 EnMS experts and over 3500 companies in nearly 20 countries. This has resulted in over 25,000 GWh of energy savings, more than $400 million USD in cumulative energy cost savings and more than 10 million tons of avoided CO2 emissions, which is roughly equivalent to the carbon sequestered by planting 150 million trees in the same time period.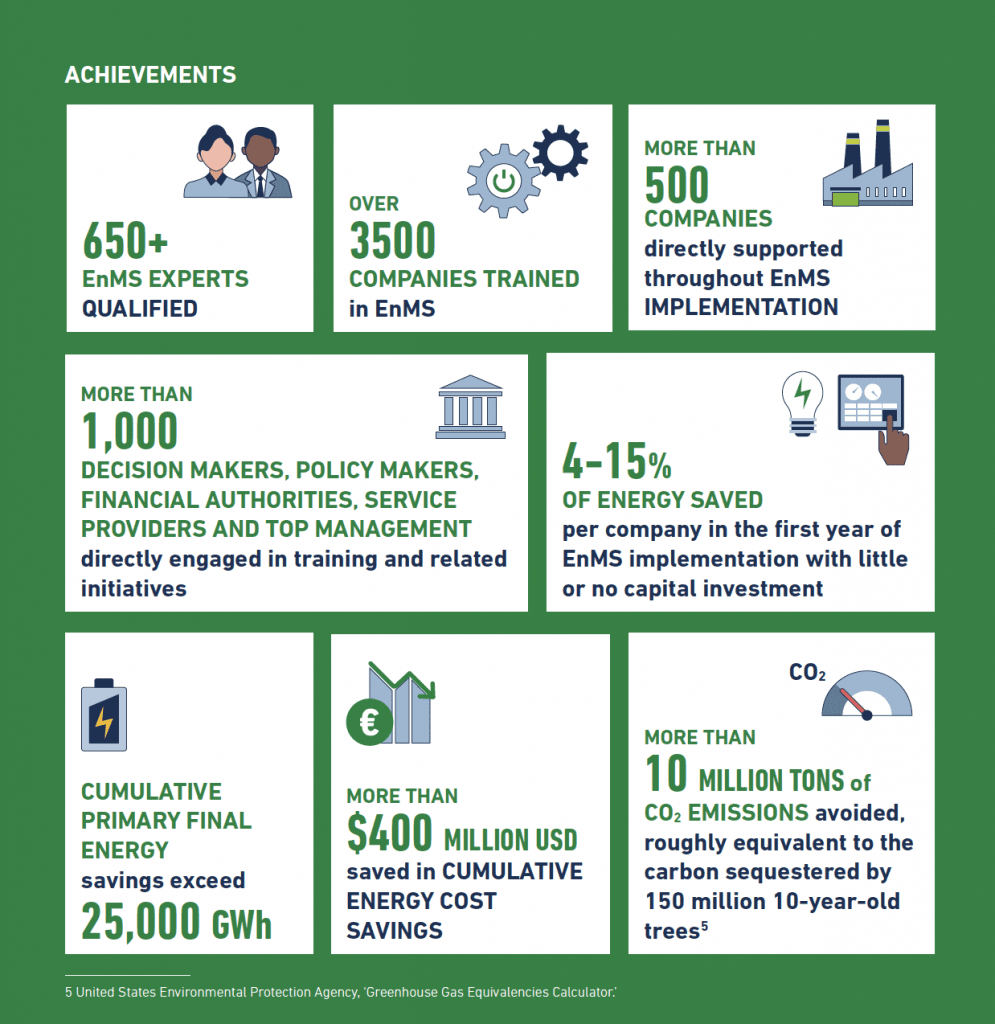 For Marco Matteini, a member of the original UNIDO team charged with developing and implementing the EnMS-ISO 50001 programme, these impressive results are a testament to the project's practical hands-on learning approach.

"When we initially designed the EnMS programme, we knew we had to go beyond the classroom and provide trainees with a hands on experience of action planning and implementation. People need to be convinced of the benefits by witnessing them in real time with their own eyes." explains Marco.
Looking forward to the next 10 years UNIDO has big ambitions. "While we have exceeded our expectations with the EnMS programme, there's no time to rest on our laurels; we need to continually improve" says Marco.

UNIDO recently created the Industrial Energy Accelerator, a network of international initiatives working to inspire global action on industrial energy efficiency. In an effort to spread the word about the potential of EnMS, this week UNIDO launched an Energy Management Systems kit. Part of the Accelerator's Efficiency Solutions Series, this kit is designed to introduce industry managers to the key concepts of EnMS and inspire greater uptake within industry. Hosted on the Accelerator website, the starter kit includes an overview of UNIDO's EnMS training programme and insights from leading experts in the field.

The industrial sector continues to be among the world's largest consumers of energy and subsequent contributor to greenhouse gas emissions, especially in emerging economies. There is still so much to be achieved through better energy management and the uptake of EnMS in industries worldwide. In particular, UNIDO hopes to continue to improve its service offer for the entire value chain specifically tailored to country contexts. This will also inevitably include the integration of digital technologies and the use of big data to truly maximize industrial energy savings.

"Given industry's huge consumption of global energy resources, which is significantly impacting the climate, we have only reached the tip of the iceberg," explains Marco. "Our challenge now is to scale-up and expand what we started 10-years ago."
---
UNIDO's Energy Efficiency Solutions Series
Throughout 2020, the Accelerator is drawing on its collective wealth of experience to produce a series of knowledge kits on industrial energy efficiency. These kits cover five important energy efficiency solutions: Energy Management Systems; Efficiency Solutions for Motor-driven Systems; Industrial Heat; Industrial Cooling; as well as Energy Metrics and Performance Indicators. Through this series, the Accelerator hopes to inspire and equip industry practitioners to take the first step towards achieving better energy results. 
Download the EnMS kit here