Dramatic motor system energy savings are easier than you think
What does a motor system and an orchestra have in common? Just like an orchestra, an electric motor-driven system is only as good as the sum of its parts. One flat note, such as a leaky pipe or a faulty compressor, can ruin the overall performance of the system. In other words, when attempting to improve the efficiency of a motor system, industrial organizations must consider the entire system from the power supply to the mechanical controls and everything in between.
To inspire and guide industrial organizations on their journey toward motor-driven system optimization, this month UNIDO launched the second of five efficiency solutions kits. Using expert insights, case studies and experience gathered over the past decade, the motor-driven system efficiency solutions kit introduces users to the various ways industrial organizations can achieve energy savings and the types of training programmes on offer.

A clear message throughout this kit is the importance of taking a 'systemic' approach to motor-driven system optimization. "An efficient electric motor and the use of variable speed drives is of little value if pipes are blocked in a pump system, or if there are leaks in a compressed air system," explains globally renowned motor-driven system expert Dr. Anibal de Almeida in the kit's feature video.
"Each and every component in a motor system must be well selected, correctly sized and they all must perform with high efficiency. There is no room for poor performance," says Dr. de Almeida.
In UNIDO's experience, organizations that adopt a motor-driven 'system' approach to energy efficiency can achieve energy savings of between 10 to 50 per cent. This is significant and important considering the vast untapped potential for energy efficiency in electric motor-driven systems. Around 25 per cent of the electricity used in motor-driven systems worldwide could be saved with low-cost investments. Such a saving could reduce total global electricity demand by an estimated 10 per cent.

The 'systems' approach to electric motor optimization has been long championed by UNDIO's Industrial Energy Accelerator and related programmes. Since 2010, UNIDO has delivered its tailored energy system optimization training to industry and energy practitioners worldwide. This includes optimization of motor-driven systems, industrial heating and steam optimization processes as well as industrial cooling systems. The results speak for themselves.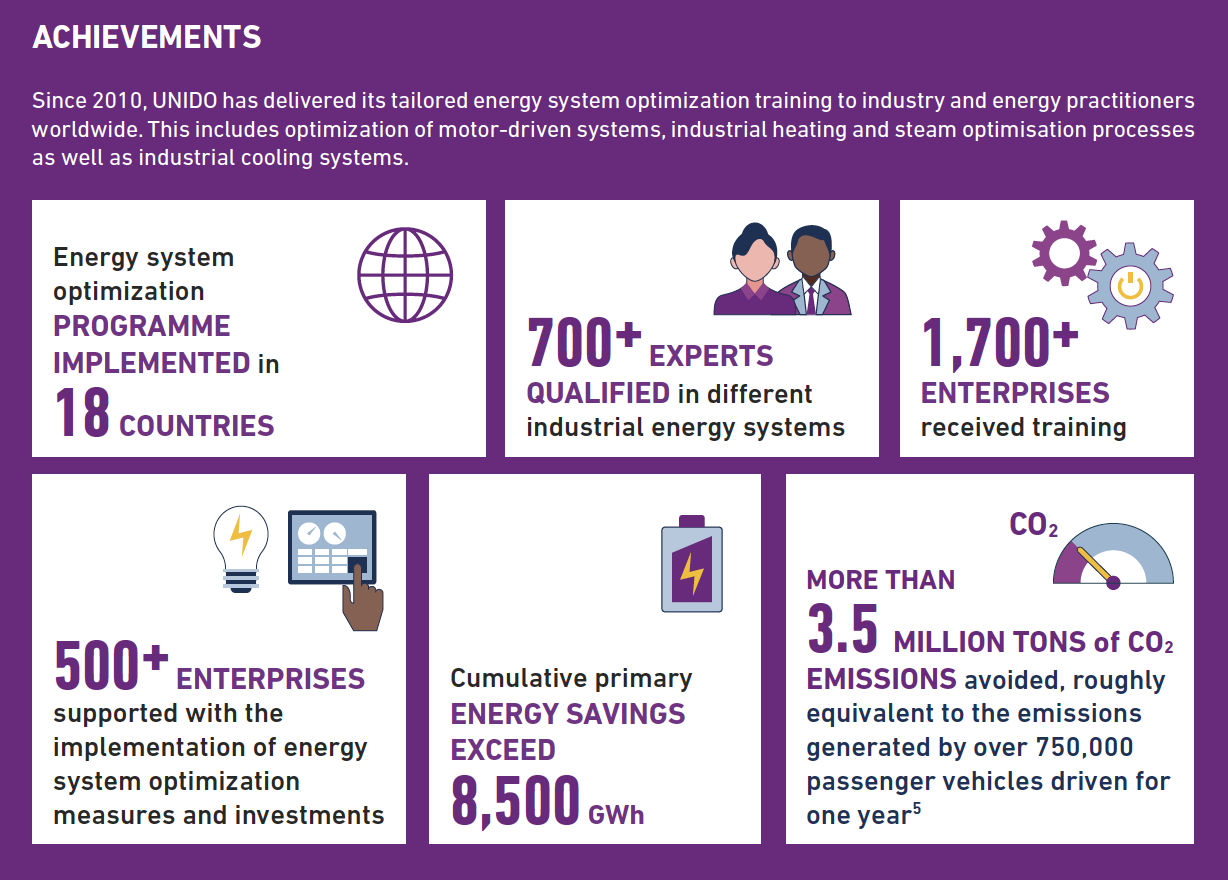 In some UNIDO projects the energy savings achieved through motor-driven system optimization have motivated industrial organizations to strive even further in their pursuit for efficiency. For example, after recouping its initial investment from its energy system optimization programme, Burmese lead battery manufacturer Proven Technology has turned its sights on solar power. In the coming year, Proven aims to provide 700 megawatts of the company's future energy needs through newly installed solar panels. The solar installation will partly be financed by the cost savings achieved through the company's optimized motor-driven system.

"Our energy savings through motor system optimization have enabled many advantages for our company," explains Myo Nyunt Aung, Proven Technology's Plant Manager. "The UNIDO training gave us the confidence to look further for more energy saving opportunities, such as implementing a solar system which we are specifically designing for our plant's lighting needs," he adds. 

For Siraj Williams, a Cape Town based engineer and UNIDO motor-driven system expert, one of the most important aspects of UNIDO's "integrated" systems approach and training is that it gets the entire organization — with its numerous departments, roles and silos — onto the same page.
"We need to be at the forefront of optimization all the time," says Siraj. "If you think about the 100 metre sprint, it's not good enough just to equal the record, we always want to improve on it."


---
UNIDO's Energy Efficiency Solutions Series
Throughout 2020, the Accelerator is drawing on its collective wealth of experience to produce a series of knowledge kits on industrial energy efficiency. These kits cover five important energy efficiency solutions: Energy Management Systems; Efficiency Solutions for Motor-driven Systems; Industrial Heat; Industrial Cooling; as well as Energy Metrics and Performance Indicators. Through this series, the Accelerator hopes to inspire and equip industry practitioners to take the first step towards achieving better energy results. 
Download the Motor-driven Systems Optimization kit here